FARM FIT FEST
FARM FIT FEST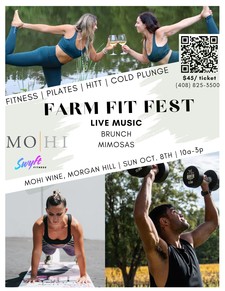 MOHI Wine 1st ANNUAL FARM FIT FEST
ft. Swyft Fitness
Purcahse your ticket today! Each ticket wil include entry to all our classes.
Arrival/Check-in - 10am
Warm up - 10:15am
Yoga - 10:30am, 11:15am, & 12pm
Pilates - 10:30am, 11:15am, & 12pm
HITT - 10:30am, 11:15am, & 12pm
Cold Plunge - 11:15am, & 12pm
Ticket includes entry into all workout classes of your choice.
Live music in our patio with mimosas and brunch avaliable to purchase!
Classes are designed for all fitness levels. Whether you're looking for intense, fast-paced cardio, strength exercises, or something a little more relaxed, we're sure to have the perfect class for you.
This is one you WON'T want to miss! See you there!
Product Reviews